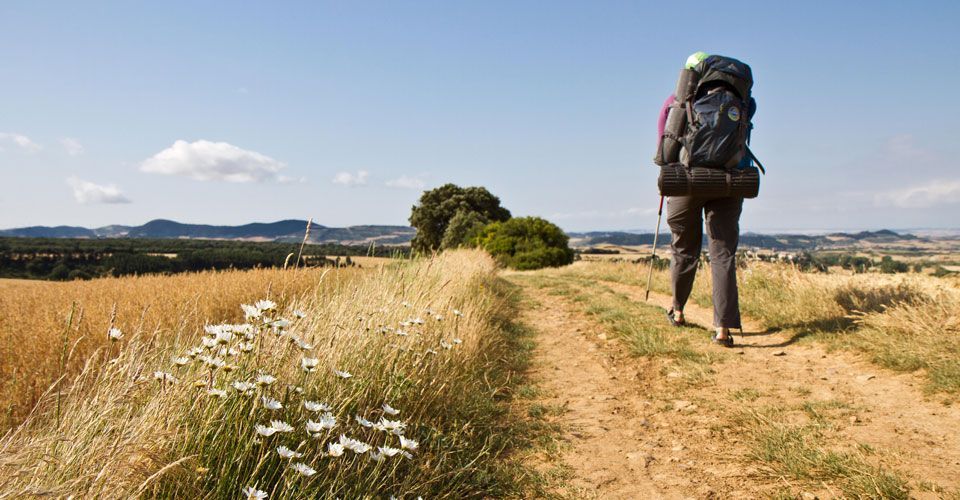 2018 Departure Dates:

APR24-MAY1; MAY 8-15, MAY 22-29; JUN6-13; JUN19-26; AUG28-SEP4; SEP11-18; SEP15-22; SEP25-OCT2; OCT8-15
El Camino de Santiago or the Way of St. James is a spiritual journey that people from all walks of life have traversed for over a thousand years. Our route covers 111 km (68 miles) that crosses through the picturesque northern Spanish countryside and ends at the cathedral in Santiago de Compostela, where the remains of the apostle St. James lie.
Pilgrims take the Camino walk for a variety of reasons. Some seek penance, healing, or enlightenment and still others go to fulfil a longing for a unique spiritual journey. For whatever reason it may be, spiritual, cultural, or otherwise, the Camino walk is an unforgettable adventure that sets the perfect ambience for reflection as pilgrims follow the path in between villages, mountains and fertile valleys that have molded the lives of millions of pilgrims before them.
The Buen Camino pilgrimage begins in Madrid where you will take a private ride that will bring you to Sarria, from where you will begin our Camino. You will walk through charming villages such as Barbadelo, Ferreiros and finally Portomarin, an ancient village that lies near an artificial lake with its medieval bridge. Here, you will see the legendary 100 km marker. Tread onwards to the scenic villages of Palas de Rei, Arzua, Salcedo and Lavacolla where you will have a purification ritual needed to arrive in Santiago as was customary in ancient times. Continue the walk to your final destination, the cathedral of Santiago de Compostela to attend the pilgrim's mass and a delicious dinner to celebrate your completion of the Buen Camino!
Take the special 8D/7N Buen Camino Pilgrimage and reflect, rethink, and remember what is really important in life. There is no better setting than the paths through the idyllic hills of northern Spain that St. James himself walked.