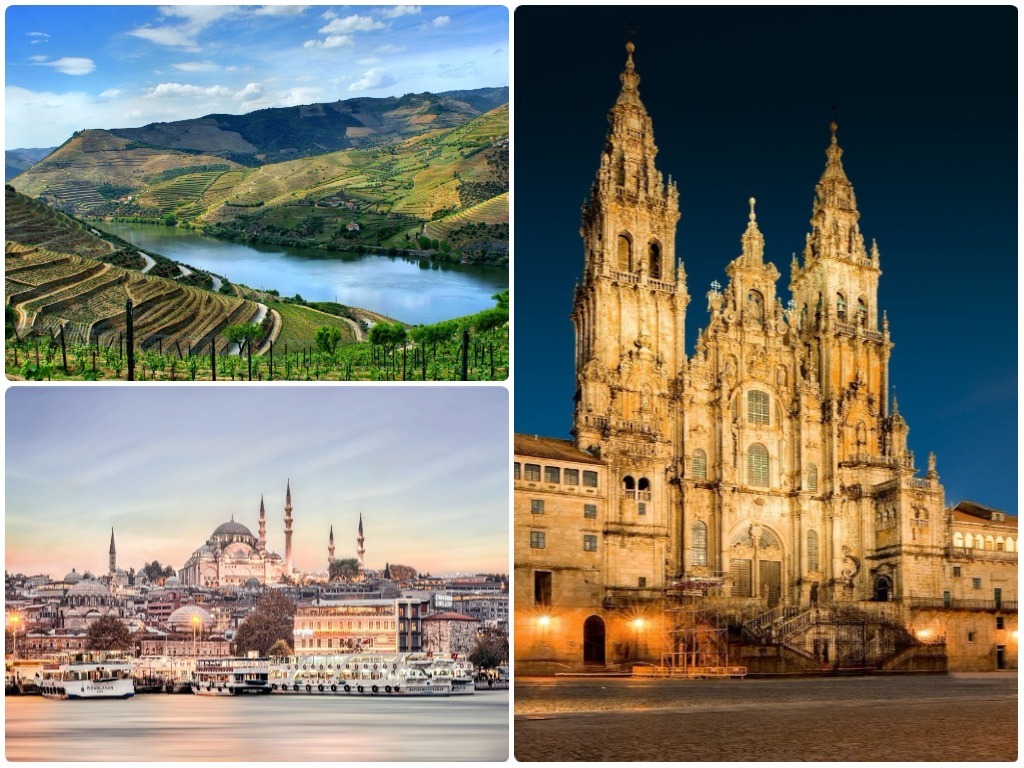 Spain, Portugal and Turkey are two countries rich in religious traditions, history and culture. Experience Portugal and Spain's most revered Catholic shrines and explore the cosmopolitan melting pot of Istanbul. Join a Pilgrimage to Portugal and Spain with Istanbul with Fr. Lito Abad leaving on June 26, 2018.
Begin your pilgrimage in the fascinating city of Porto in Portugal. Set on the northern bank of the Douro River, Porto gives rise to dramatic undulated landscapes, magnificent bridges and spectacular vistas. Enjoy a leisurely walk on the Ribeira district, a UNESCO World Heritage site famed for its medieval streets and ancient houses. Enjoy a delightful cruise along the Douro River where you will cross six magnificent bridges.
Cross the border of Spain into Pontevedra, an elegant old town bedecked with historic and important churches.  Head for Santiago de Compostela, the capital of the Region of Galicia. Millions of people from all over the world come to this city every year, many of them reaching the end of the Way of Saint James pilgrimage route. Its historic center has been designated a World Heritage Site by the UNESCO. Celebrate the Pilgrims' Mass at the Cathedral of Santiago de Compostela and witness the ancient tradition of the Botafumeiro.
Leave for the mountains of Covadonga for a guided visit of the beautiful Sanctuary of Covadonga and the Basilica, where Our Lady of Covadonga is enshrined.  Afterwards, head for Picos de Europas, where you'll ride the cable car to enjoy spectacular views of the Picos de Europas National Park, Spain's oldest national park. Continue your pilgrimage with a visit to Comillas. Comillas is a very interesting coastal town with cobbled streets, open squares, historic buildings and a selection of Modernista buildings,  including the incredible El Capricho designed by Anton Gaudi.
Next stop is Santillana del Mar, a beautiful medieval town in Cantabria, Spain. Not to be missed is a visit to the Altamira caves, home to some of the oldest cave art known to man and declared a UNESCO World Heritage site.   Head off to the Sanctuary of Our Lady of Arantzazu where St. Ignatius of Loyola spent a night in vigil and made his vow of chastity. Ignatius referred to this night vigil at this sanctuary as a time of great grace for strengthening his resolve to follow Christ.  End your stay in Spain in the stunning and chic city of Bilbao, one of the treasures of the Basque Country.
Wind down your pilgrimage in the beautiful city of Istanbul in Turkey, labelled as the cradle of civilization. Walk along its historic streets and feast your eyes on the architectural masterpieces of the Byzantine and Ottoman Empires.
More than pages in a book or words in a prayer, a pilgrimage allows you to experience your faith in a profound way.  Join a Pilgrimage to Portugal and Spain with Istanbul with Fr. Lito Abad leaving on June 26, 2018. Be prepared to encounter God and be filled with His abundant grace and blessings.