In a series of revelations to St. Maria Faustina Kowalska in the 1930s, our Lord called for a special feast day to be celebrated on the Sunday after Easter. Today, we know that feast as Divine Mercy Sunday, named by Blessed John Paul II at the canonization of St. Faustina on April 30, 2000.
The Lord expressed His will with regard to this feast in His very first revelation to St. Faustina. The most comprehensive revelation can be found in her Diary entry 699:
My daughter, tell the whole world about My inconceivable mercy. I desire that the Feast of Mercy be a refuge and a shelter for all souls, and especially for poor sinners. On that day, the very depths of My tender mercy are open. I pour out a whole ocean of graces upon those souls who approach the fount of My mercy. The soul that will go to Confession and receive Holy Communion shall obtain complete forgiveness of sins and punishment. On that day are opened all the divine floodgates through which graces flow. Let no soul fear to draw near to Me, even though its sins be as scarlet. My mercy is so great that no mind, be it of man or of angel, will be able to fathom it throughout all eternity. Everything that exists has come from the very depths of My most tender mercy. Every soul in its relation to Me will contemplate My love and mercy throughout eternity. The Feast of Mercy emerged from My very depths of tenderness. It is My desire that it be solemnly celebrated on the first Sunday after Easter. Mankind will not have peace until it turns to the Fount of My mercy.
In all, St. Faustina recorded 14 revelations from Jesus concerning His desire for this feast.
Nevertheless, Divine Mercy Sunday is NOT a feast based solely on St. Faustina's revelations. Indeed, it is not primarily about St. Faustina — nor is it altogether a new feast. The Second Sunday of Easter was already a solemnity as the Octave Day of Easter. The title "Divine Mercy Sunday" does, however, highlight the meaning of the day.
Source: https://www.thedivinemercy.org/celebrate/greatgrace/dms.php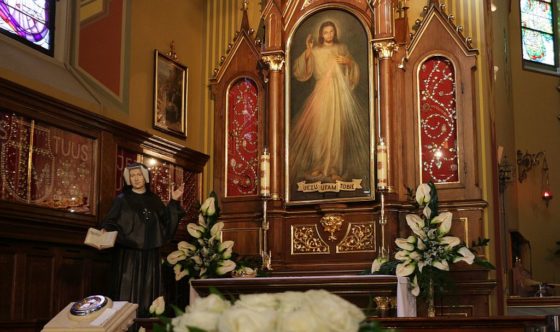 A Journey of Faith to Eastern Europe ~ 13 Days
September 26, 2019
FR. DANTE VENUS, S.V.D.
Click here to learn more
Visit the Sanctuary of the Divine Mercy in Lagiewniki, Krakow, Poland. Pray before the original image of the Merciful Jesus in the Convent's Chapel where St. Faustina's relics are also found. Join a Pilgrimage to Eastern Europe with Fr. Dante Venus, SVD leaving on September 26, 2019.
Pilgrimage to the Divine Mercy and Malaybalay ~ 4 Days
November 13, 2019
with a PILGRIMAGE CHAPLAIN
Click here to learn more
The Divine Mercy Shrine of El Salvador is a miraculous center for healing, bringing the Lord's Divine Mercy to its devotees, deepening their devotion and renewing their faith.  Visit the Divine Mercy Archdiocesan Shrine in El Salvador, Misamis Oriental. Join a Pilgrimage to the Divine Mercy and Malaybalay with a Pilgrimage Chaplain leaving on November 13,  2019.